Paragliding experience at Serre-Ponçon
Welcome to Lake Serre-Ponçon, a haven for outdoor activities, blending mountains and lake together. The breathtaking landscapes of the Hautes-Alpes will astonish you, both on the mountain slopes and by the lake's edge. Activ' Serre-Ponçon offers a range of activities in an exclusive setting, guided by a state-certified professional with over 20 years of experience in skiing, sailing, kiting, and paragliding. Paragliding initiations take place over Chorges, above the Saint-Michel Bay, all year round.
Between professionalism and a friendly attitude
Serre-Ponçon and its surroundings is the perfect spot for these activities, being one of the most beautiful paragliding sites in the world, with incredible weather conditions and landscapes. For paragliding and aerial activities in general, it's simply a paradise, boasting over 300 days of sunshine per year. Lake Serre-Ponçon and its environs offer you unique and diverse landscapes.
PARAGLIDING COURSE AT SERRE-PONÇON
Between professionalism and a friendly attitude
For skiing, it's a highly diverse playground, with several well-known resorts just 30 minutes away, like Orcières Merlette, as well as charming, picturesque village resorts such as Les Orres or Réallon.
The potential for ski touring is also incredible, with the Ecrins massif, the Queyras, the hardest part is choosing.
You can also offer
a gift voucher !
Gift something original and unique, a paragliding initiation, an unforgettable flight. It will be a present filled with adventure and lasting memories, accompanied by a host of emotions.
We offer various types of flights to suit your budget, valid for one year from the date of purchase.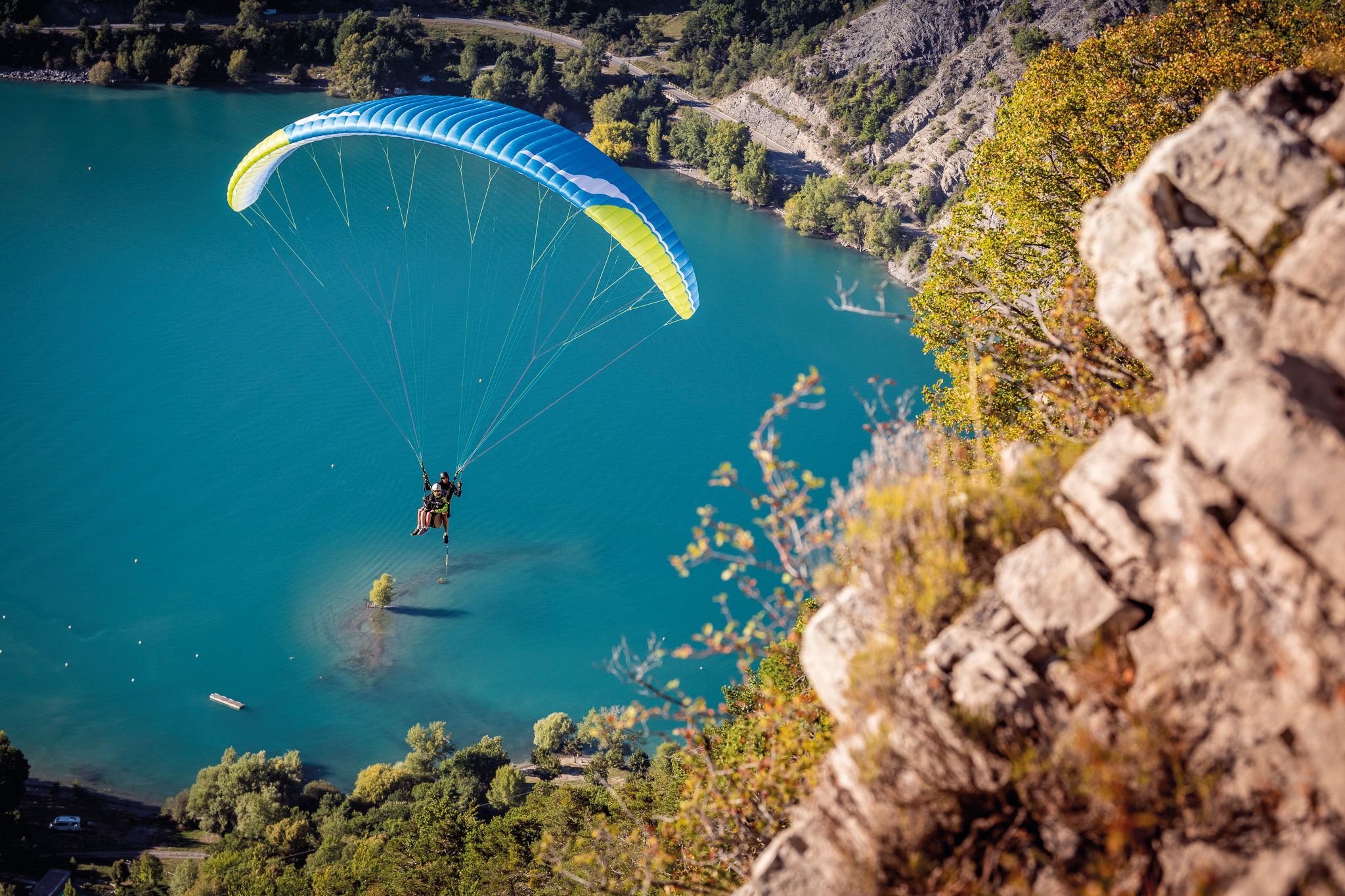 They will make you fall in love with paragliding
My experience and teaching methodology will allow you to progress quickly and safely in the proposed disciplines.
Having been a nature lover since a young age, I will let you explore my passions through these activities. These disciplines will provide you with unique sensations of freedom and camaraderie.
Having guided these activities worldwide for many years allows me to offer you teaching methods suited to your desires and your level.
All activities offered will be overseen by French state-certified professionals who share a great passion for nature, teaching, and sharing.